Room 11 ($244 per night)
King size bed
Electric fireplace
Two-person spa tub with skylight
Tile shower
Kitchenette and dining table
More Info & Photos
Room 12 ($275 per night)
King-size bed
Two-person spa tub
Two-person tile shower
Electric fireplace
Kitchenette and dining table
More Info & Photos
Room 14 ($239 per night)
King-size bed
Private back patio near stream
Tile bath with spa tub/shower combo
Vaulted ceiling
Kitchenette with dining table
More Info & Photos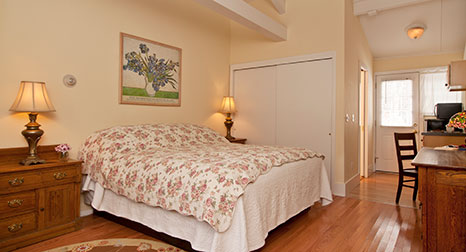 Room 15 ($289 per night)
King-size bed
Opens onto patio with view of stream
Large shower plus 2-person spa tub
Vaulted ceiling
Electric fireplace with antique mantle
Kitchenette and dining table
More Info & Photos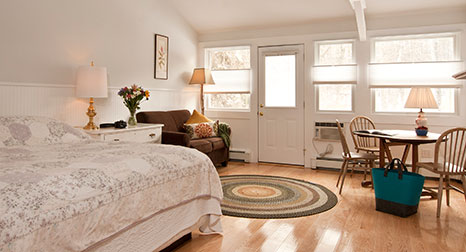 Room 16 ($269 per night)
King-size bed
High quality twin pull out couch
Private deck
Bubbler deep soaking tub, shower
Electric fireplace with antique mantel
Kitchenette
More Info & Photos
Room 18 ($263 per night)
Two-bedroom apartment
King-size bed
Two twin beds
Galley kitchen with table for two
More Info & Photos
Room 8A ($189 per night)
Queen size bed
Private bathroom with shower
Electric fireplace
Writing desk
Wet bar with mini fridge
More Info & Photos
Standard Rooms 1-10 ($169 per night)
Option of queen or two twins
Private bathrooms with shower
Shared porch
More Info & Photos
The Woodstock Inn on the Millstream is your perfect Hudson Valley getaway. Whether it's a relaxing weekend, or a fun-filled family adventure that you're seeking, our location in the heart of Woodstock NY, along the cascading Millstream, is the perfect destination. Our gardens, grounds and rooms are sanctuaries for travelers from throughout the neighborhood and around the globe.
The rooms at our Woodstock, NY lodging facility are tastefully appointed with superior beds and linens, our baths are stocked with luxurious Aveda products and a fresh, bountiful complimentary breakfast is served every morning in the lobby.
Selected rooms at our Woodstock NY Inn have electric fireplaces and spa tubs as well as patios adjacent to the stream. We always offer free wi-fi and complimentary parking. The variety of room offerings, from standards to stand-alone cottages, allows us to serve a variety of guests, whether you are traveling alone, as a couple, with families or for business. We invite you to visit us and feel free to contact us directly if you have any questions.