Last weekend I traversed the entire Devil's Path supposedly one of the most difficult trails on the east coast.  We were to be 5 brave souls that weekend but a few folks bagged out due to the weather forecast and so just two of us ended up doing the 2night/3day backpacking trip led by Jeff Vincent of
CatskillMountainWild.com
.  I highly, highly recommend Jeff!  He's so amazing …I'll write a separate blog about him and his company!
The trail begins at Prediger road in Elka Park and ends about 24 treacherous miles later at Spruceton road in Westkill, NY.  It poured rain the first day (part of the day), sun shone the second, and we were told weather was headed our way the second night so we took shelter and waited for a severe thunderstorm that never materialized.   A cold front did move in that evening along with wind that forced us to wear hats and gloves as we finished in some snowfall on Sunday afternoon.
If you tried to tell me 25 years ago that I'd be traipsing around the woods in the Catskills hauling 30 lbs on my back for "fun"  um…actually I wouldn't of even known a person who could have said that.  My circle knew nothing of backpacking, the Catskill mountains, or any type of athleticism.  We were wine drinking snobs who smoked Gauloise, spoke about art, put on art collaboratives in Paris–and thought we were the cats meow.   Not that there's anything wrong with that…. it's just that my priorities have shifted…dramatically… and I really like where they've landed.   I know they'll shift again.   It's one of beauties of life.   I'm learning to just roll with it all and treasure each and every moment.   But….I digress……back to these mountains!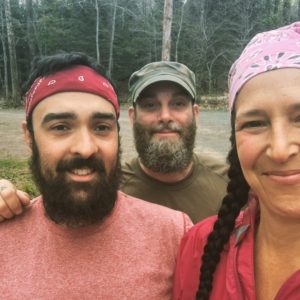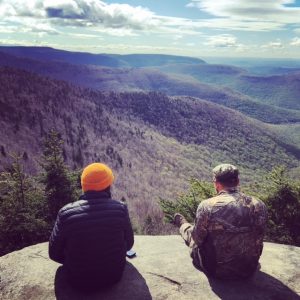 If you look up the hike … which I did obsessively …it's listed as extremely difficult, strenuous, for athletes only, etc.  I kept reading over and over… and fretting day after day that perhaps I'd gotten  in over my head.  But wait a minute I reasoned,  I've run marathons, trail marathons.  I've hiked all those mountains ( just not all together).  I'll be fine I reasoned.  But in came thoughts of doubt…"Yeah but you are a slow marathon runner,  you came last in that ultra you did…
You 
aren't an athlete!  You have a heart condition, you shouldn't go.  If you ask your cardiologist he will advise against going." On and on and on.  Well, I didn't listen to that negative chatter and I stuck with my plan to go and take it one step at a time.  Lo and behold I lived to write this blog! And ….I had the most glorious weekend ever… traversing 5 peaks and spending 55 glorious hours in the forest … heaven!
I have a dream to thru hike the Appalachian Trail …. I concocted it a few years back.  Last year during my annual visit to my cardio surgeon he advised me against taking on such an endeavor warning that if I dissected during my trip I'd never make it to the hospital in time.  I later realized that if I dissected at home in Woodstock I also might not make the 40 min drive to Vassar Brothers.  I decided then and there to not let this condition run my life.   I decided to not sit home in fear of dying which I will admit I did for about a month.  Good god I wouldn't even walk across the parking lot at the Inn without clutching my heart!
If any one really knows me they know I'm happiest in the mountains on a hike with Willy & Zelda.  Willy is now mostly retired and spends his days cat sitting and swimming (weather permitting).  Zelda tore her ACL last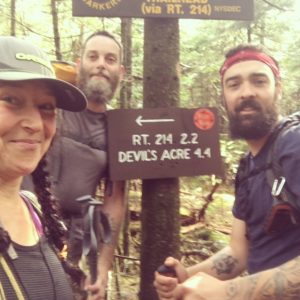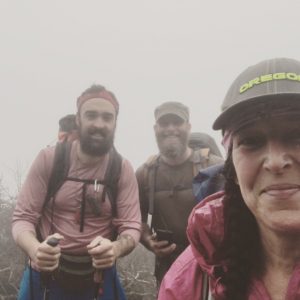 year and only recently has been back on the trails.  Just the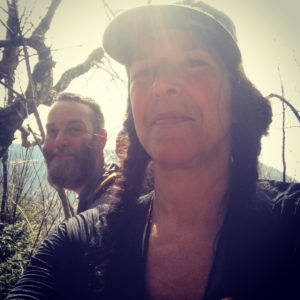 other day she came on a hike and I cannot describe the joy I felt…talk about priorities  shifting!   My ex husband considers me an unsophisticated hick who lives a barbaric life in the boondocks.  I know I'm just a mountain loving woman who no longer smokes Gauloise and no longer
talks
about art but
makes
 it.
peace,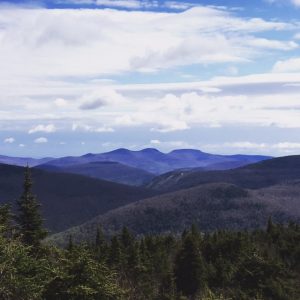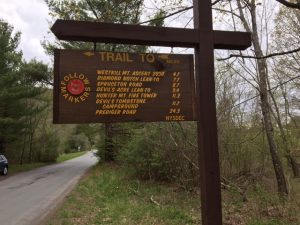 Karen