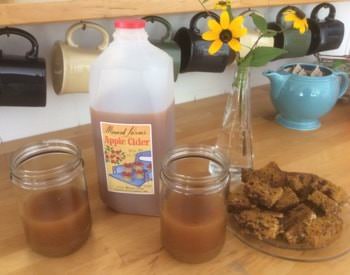 The magic of fall is upon the mountains. This year weather prognosticators claim yellows and reds will be the dominant color of Mother Nature's transformation of the area's trees. Of course, some orange will also highlight the display. It certainly seems every day there's a tinge more color, as the sun-filled days shorten and the nights turn clear.
This season seems to be rightfully celebrated with apple everything, and at the Inn we're no different. Fresh cider greets guests, and apple treats are available at check in. Of course, like everyone else we enjoy our apple picking excursions. (Even though Saturday Night Live does find it humorous!)
Some of our favorite places to go apple picking in the Hudson Valley include Maynard Farms and, Stone Ridge Orchard, with its Cider Farm bar is a refreshing treat for grownups and definitely worth a visit and a tasting.
Of course, there's more to fall than apples. So if hiking is your thing be sure and enjoy the nearby Overlook Trail or take a ramble along the Ashokan Reservoir's flat, paved path. More adventuresome hikers are encouraged to reach out to innkeeper Karen, herself an avid outdoorswoman and a member of the famed Catskill Mountain 3500 Club, meaning she hiked all 35 high peaks in the area in a variety of conditions and seasons. She knows a trail for every skill level and is more than happy to share her knowledge with guests.
Fall nights are also memorable, as people gather around fireplaces to chat and read. And there's plenty of live music in town, featuring talented local musicians as well as some of Woodstock's more famous music icons.
Taking time for a getaway seems all the more critical as the world's woes seem to be piling up. Enjoying a vacation, focusing on the beauty of nature and reveling in the quiet of the country and the beauty of the arts can really melt away stress. We see it time and again with our guests. It's so rewarding when people find their inner calm and enjoy the beauty of Woodstock while staying with us. Hope you'll join us as well.