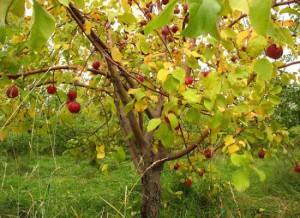 There is just something so refreshing when the air gets crisp and the nights are cool and star-filled. In Woodstock we are lucky to enjoy so many outdoor activities, but certainly one of the funnest and tastiest is apple picking. Sunshine, a picnic basket, family and friends – what more could a person ask for? This year's apples look to be a bumper crop coming in, so it will likely be an extra-rewarding season. Whether it's the zestiness of a Gala or the juicy Cortland that you're after, nothing beats the satisfaction of eating fruit that's been warmed by the sun and fresh off the tree. In the Hudson Valley more than a dozen different types of apples are grown and each has a distinct aspect, from texture to tartness.
You can explore these options by visiting any of the nearby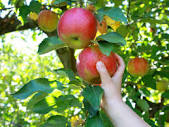 U-pick farms (Maynard, Stone Ridge Orchard) or many of Woodstock's local stores and markets sell freshly-picked, locally-grown apples. One of our favorites is Woodstock Meats, which not only provides fresh, local produce it's also a town staple. (If you wonder just how much a meat market can bring to a community check out their amazingly fun video, created by some of the Woodstock's young and certainly talented youth.)
Of course, once apples are enjoyed in their natural form it becomes time to ponder how best to bake with them. The options are endless. We tend to stay with the traditional apple crisps, apple bread, apple pie, etc. However if you want to know more than you ever imagined about ways to eat apples, check out this list of 50 things to make with apples. Who knew that sesame-apple slaw actually exists?
It's a bittersweet season – the literal fruits of farmers' labors are being enjoyed, but we also know it is fleeting. Soon the sun won't be quite as warm, the days will be even shorter, the nights longer. So, while the time – and picking – is ripe, enjoy this glorious gift from nature.