Winter is an amazing time here in Woodstock. The mountain air is so fresh, the skiing is enjoyable – whether you opt for downhill or cross country. Hiking trails are not crowded, and snowshoeing is a perfect option if Mother Nature works her white magic on us. But the real joy of this season is found amid the peaceful nature throughout town. It's just a nice, quiet pace. People have time to talk and visit, the stores have amazing sales going on, concert venues are warm and inviting – it's truly a favorite season for so many locals.
So it's kind of bittersweet to see the Hudson Valley making its mark in the tourism world.  National Geographic started it in 2013, making us a must-see destination, Vogue has written about Woodstock's charm in 2014 and now Travel and Leisure magazine has chosen the Catskills as #2 of 50 Top places to visit in 2015, citing our region's commitment to local, authentic experiences. Here, at the Woodstock Inn on the Millstream, that has always been our defining ethos. It's such a treat to chat with guests and offer our local insights as you experience Woodstock. Whether you're seeking an action-packed outdoor experience, a relaxing time in the heart of nature or want to rock 'n rol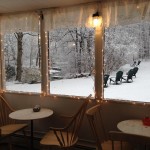 l the night away, there's always something happening. And certainly sharing our secret trails, favorite restaurants and just going the extra step to make your visit enjoyable is what makes our jobs rewarding. (This winter we're also offering midweek savings – 50% off a second night – sorry holidays and week of Feb. 16-20 not included.)
Probably more people will be visiting this year, thanks to all the positive coverage, and that's great. But it also makes us treasure this secret calm of winter even more. Hope you'll join us and experience this magical season… It may be the start of a new year, but before you know it, the crocuses will be sprouting, so come see us soon and bask in winter's beauty and calm.