Updated Aug. 24, 2020
Among the many things that have changed amid the COVID-19 situation is how we eat. Woodstock's many restaurants have long been communal gathering areas, where we meet with friends and neighbors, sharing the experience of dining, drinking and laughing together. Although indoor dining is now allowed with some stipulations, it seems we've discovered the joy of eating outdoors and also take out is a new normal. Throughout town, curbside pick-up options abound. At the Inn we've brought in additional outdoor furniture for our guests to enjoy the experience. Although the location may change, thankfully, the area restaurants' emphasis on healthy, locally-sourced food remains a priority for our community. Anyone dining in Woodstock has plenty of options.
We've partnered with two of our favorite restaurants right up the street from the inn. Our guests can receive 10% off when they show their room key when picking up their orders from:
Joshua's – This delicious Middle Eastern-based restaurant, which includes meals for all culinary options, is open from 1- 7 pm, Thursday – Sunday. Call 845-679-5533 to place pickup order.
Little Apple Cafe – has the freshest treats including cold-pressed juices, toasts, wraps and smoothies, all accessible from a delightful patio where people can walk up and order Thursday – Monday 11am – 5 pm or call 845-684-5605 to order ahead of time.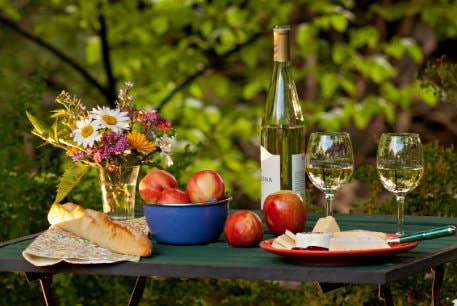 We've added additional outdoor furniture so guests can dine on site with take out food from an area restaurants or create their own picnic from the grocery, meat market or health food store in town.
Other area restaurants are excited to share their fare with people. Some of our favorites, in no particular order:
Bread Alone – Call 845-481-4753 to place your pick up order.
Oriole 9 – Order online or call 845-679-5763.
Cucina – Open 7 days a week for dinner, enjoy Cucina Summer House with light fare. 845-679-9800
Garden Cafe at Woodstock – Open Wednesday-Monday for lunch and dinner to go, 11:30 am – 7:30 pm. Call 845-679-3600 to order pickup or delivery.
Catskill Mountain Pizza – Tuesday – Saturday has all day pickup or delivery and patio seating on first-come basis. Call 845-679-7969.
Sylvia – to go orders or socially-distanced outdoor dining – reservations highly recommended.
The chamber of commerce has also created a list of what's open and offering items for residents and visitors. Because of the uncertainty we urge people to contact an establishment directly to make sure the chamber's information is accurate.
This change in dining routine is new for everyone. Do know we're trying to make it as comfortable as possible for our guests to enjoy their getaway and experience their own taste of Woodstock.
If we can help with anything during your stay, please feel free to text us at 845-663-8152.