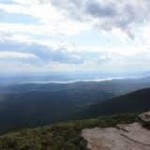 There are so many amazing, beautiful trails right here in Woodstock, and venturing into the larger backyard of the Catskills is simply wondrous. It's always awe-inspiring to see the power of nature in action; watching flowers and streams and right now especially, the trees, change and adapt. The things to do in NY are endless, especially outdoor adventure in beautiful places like Woodstock NY.
Fall is always a balancing act. It brings those melancholy moments thinking of passing time and impending cold, but it also brings these rapturous, beautiful sun-filled, crisp days. They beckon us outdoors as adamantly as our childhood friends would; it truly is time to come out and play.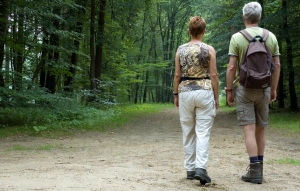 To that end, technology has caught up with many adventures and we just have to share this web site that lists all kinds of outdoor adventures in Ulster County. Hiking, bicycling, birding, U-picks. You name it, this site lists it. Just go to the legend button at the stop of the site and explore away! This is a great cross-reference resource and we're thrilled to share it with guests.
One of the most popular trails in Woodstock is Overlook Mountain.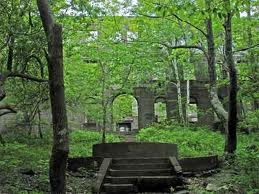 Our friends at Catskill Mountaineer have compiled everything you want to know about this 5-mile hike to the fire tower. (And this is their picture of the ruins!) The truly hardy can go the full hike to Echo Lake, but leave plenty of time! Overlook is right in town, makes for a lovely excursion and the view will leave you breathless – both for it's beauty and for that last quarter mile. But all well worth it.
The nearby Ashokan Reservoir has a well-maintained paved trail that offers runners, walkers – even those with strollers – and bicyclists, some great views and it's always amazing to think that all that water will wind up in a New York City apartment – without filtration! In addition to the reservoir info, Trailkeeper list many other Catskill sites representing a variety of distances and difficulties.
And Karen, an avid hiker, is always an amazing source of knowledge about various trails and summits throughout the Catskills. It's where she spends most of her days off, and once you see the sights, you'll understand why. Scenery on the fall hikes is ever-changing. Literally, the leaf colors on an out and back path can change during one hike! But although ever-changing, the beauty is constant.
And remember, relaxing at our New York B&B is always the perfect antidote for a rigorous hike. The most important thing is to enjoy the time outdoors this Fall – it will be a whole year until you can have this experience again.