It seems winter weather has a way of changing people's plans. Lately, we had many calls from people wanting to book a same-day stay, but our computer wouldn't give them that option. Well, we've changed that. During our winter season we're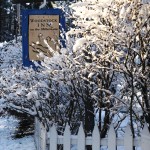 offering same day booking on our website. We'll see how it goes now, in our slower season, and decide if we'll keep the option available once things get busier.
Of course, while we always want to do what's easiest for our guests, it's also important that we do what's best for our guests and having your room ready and warm is our top priority. Many travelers are affected by weather and opt to stay overnight rather than drive on dangerous roads. Others are discovering that the Catskills in winter have so many fun options, such as skiing, snowshoeing and snow tubing that they want another day to take it all in. Offering the same day booking option seems one way to help those who have last minute plans. But of course you can always call us directly, at 845-679-8211 and we'll help you with your reservations.