It's funny, but the slowest months are sometimes the best. Yes, in the height of summer, when we're fully booked and folks are swimming in the stream and the gardens are abloom, it is fun.
But this time of year it's so nice to slow down a bit and really get to visit with neighbors and friends. This month devoted to love is especially welcome right now with all the recent craziness in the world and in our country. It's special to just have unrushed time with loved ones, or even alone. Nothing like going for a hike, appreciating expansive views and the beauty found in a sparse winter landscape to put things in perspective.
At the Inn we're so lucky to have close, constant encounters with nature. There are b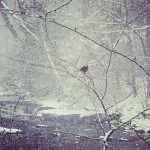 irds battling elements, the snow arriving and disappearing converts the grounds into an ever-changing landscape, while the sun shining in the breakfast room recharges the soul (or maybe that's the second cup of fresh coffee taking effect?) It takes a lot of effort to appreciate moments and February offers that opportunity in many ways in Woodstock.
Upstate Films continues to offer interesting movies and The Barn at Levon Helm's has wonderful concerts every weekend this month! What an amazing venue and so proud of all those who are keeping the music going. Over at New World Home Cooking chef Rice Orlando is again preparing his annual "Safe Sex Valentin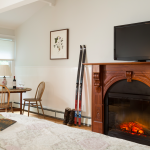 e's Dinner" which is always a fun, event-filled meal and of course, at the Inn we're thrilled to be featuring our recently renovated Room 15 as Room of the Month for February. With its mantled, electric fireplace as the centerpiece this is the perfect sanctuary for winter.
The windows, dining area and private porch overlook the stream, the bath is luxurious with a shower and separate jetted tub. And the bed, with its cozy quilts, is so comfortable that getting out of it may be the most difficult hurdle you face when staying here. (As Room of the Month a 2-night stay in February includes a $100 gift certificate good for any return visit.)
We do like keeping it simple here, no matter the season. But there's limited time to appreciate these snowy, and kind-of-slow, beautiful days in this shortest month, so let's enjoy them while we can.