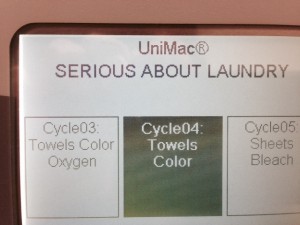 Quite an odd picture I know…but the story behind it is a great one…I promise!  We are not only serious about laundry here at the Woodstock Inn….we are serious about providing our guests with the best experience we can possibly create.  A lot of people here work above and beyond the call of duty day in and day out to make this Inn the wonderful place it is today.  If you have been to the Woodstock Inn on the Millstream recently you may have noticed in your standard room some changes….like a hand made walnut desk (from local artist/furniture maker Andrew Gray), a flat screen TV, a fresh coat of paint and a newly designed closet for all your belongings.  You may have also noticed our newest "addition"  which houses our state of the art laundry room!  I joked quite a bit this winter as it was being built telling all who inquired that it may not be that exciting for them…but boy…it is a godsend to this Innkeeper and her staff.
Our improvements are sometimes subtle….sometimes obvious….the key word being improvements.  The inn is run…yes, as a business…but it is not just about the almighty $….it is also about you…and me….and the cleaning staff, the painter, the gardener,  the community, and yes…dare I say it…the world.    We look at the small picture …but we also look at the big one and it helps to put the right kind of perspective on how to run this business.  And so you see loving, caring details all around.   You see a staff that has been here for many, many years…coming back day after day to proudly clean your room.   You may also see some mistakes …alas…no one is perfect…but the relief is that you can simply tell us…and 10 times out of 10 something will be done about it!
We had outgrown our old beloved laundry room and so Tom, the owner,  built a brand new one to house the commercial washers and dryers that we needed.  He listens…to his guests and his staff and always makes an informed decision.  You talk…we listen and when we can action immediately follows.  I am proud to work here…and that has been true now for 20 years!  Mr. Bullard inspires the best in all of us and it shows.   Take for instance the time Barbara came in at 8am BEFORE her other job to help out cleaning when I was short staffed one day, or take the fact that Rita has never missed a day of work, never been late or called in sick,  or that Marilla, Ariana, Ana, Kianu, Thomas, and Jackie perform their jobs with a sense of loyalty and pride…every day!  Angela goes above and beyond each week that she is here…helping with whatever is needed..including letting my "kids" out for some fresh air if I have been gone too long.   And let us not forget the amazing women behind the scenes… in the engine room…Lorrie and Theresa without whom I truly would be lost ….and perhaps you don't know it…but you would be too!   The beauty of this place is not just the gardens and buildings…but the love that each and every one of us feels for this little bit of paradise and how that love manifests through our work.  The ol' trickle down theory works with LOVE!
peace,
Karen