One of the greatest things about living in Woodstock is, well, living in Woodstock. As we embrace the pleasures of summer we'd like to share our 10 favorite summer treats of Woodstock. And remember take some video as you explore – it could win you a free night at the Inn. So here they are, in no particular order – except #1. Enjoy.
Mower's Market – Even if you aren't looking for that hard to find, just right, one-of-a-kind momento, spend your Saturday strolling around, talking to vendors and looking at an eclectic gathering of people and goods.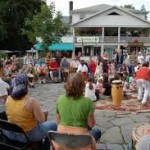 Sunday drummers circle – Surround yourself with aging hippies, enthusiastic toddlers and just funky folks banging away at the Village Green. To fully get in the spirit pick up an extra drum lying about and join in.
Gallery hopping – With almost a dozen art galleries right within Woodstock proper, you'll encounter everything from classic painting to abstract sculpture.
Golfing at dusk – Nothing like watching the shadows lengthen, feeling the air cool down and hitting a straight drive along the green fairways of the Woodstock Golf Course. (Well, maybe having that straight drive actually land in the cup would make it better, but being in the moment on the course is pretty darn swell.)
Jane's Ice Cream. It's summer. It's their 30th birthday. Indulge.
Thorn Preserve – This area off John Joy Road is a natural sanctuary for checkerspot butterflies and other beautiful flora and fauna. And Woodstock Land Conservancy offers guided hikes throughout summer.
Drive to Big Pink. It may not be 1968, but it is where The Band worked on their transformative album and, yes, it's still pink. The curren

t owners respect the legacy of their home. To find out more visit bigpinkbasement.com
Maverick Concerts – Woodstock and music go hand in hand, so it really shouldn't be a surprise that there's a crafted wooden structure amid the woods.that's been hosting lovely outdoor summer concerts for a century now. Yet, it's still a magical place to listen, and the afternoon family series is fun for all ages.
KTD Monastery – Visiting this impressive, massive, spiritually-amazing Buddhist Temple is always a treat. But on Saturday and Sunday at 1 p.m. there's a free guided tour and on Saturday at 2 pm there's a free intro to meditation class offered. Bliss.
Our stream – Refreshing; mesmerizing; relaxing. Grab o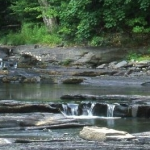 ne of our big plushy beach towels, settle in, soak up the sun and nature and beauty. Ahhhhh, life is good